---
The Voices of our Community: Valeria Krasavina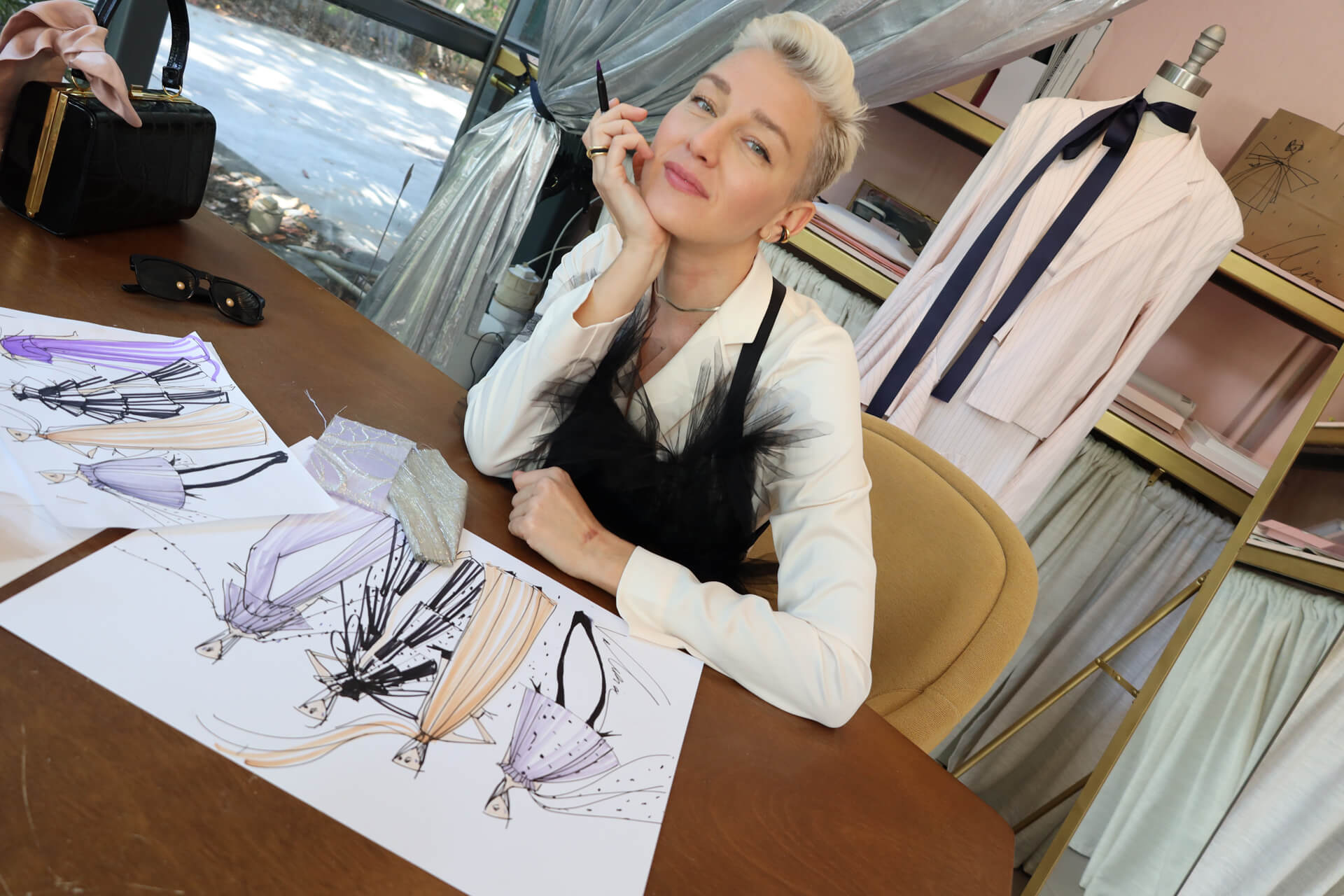 Valeria Krasavina - Artist, Fashion Designer, Founder of Fine Frenchie
This week, we experienced the whimsical world of Valeria Krasavina, a Miami-based fashion illustrator and designer with an eponymous label and concept brand "Fine Frenchie".
What is Fine Frenchie and the Valeria Krasavina brand?
My name is Valeria Krasavina. I'm an artist, fashion designer, and overall creative person. I have two very different brands, but at the same time, they are very connected. Fine Frenchie is a lifestyle brand that revolves around a fashionista French bulldog character, and of course, it was inspired by my Frenchie Rabby who is now 14 years old. I produce and sell different products worldwide, from art prints and stationery to silk scarves and wallpapers. On the other hand, Valeria Krasavina is a conceptual womenswear brand that I started about a year ago. I produce capsule collections and sell made-to-order pieces, which makes them very unique.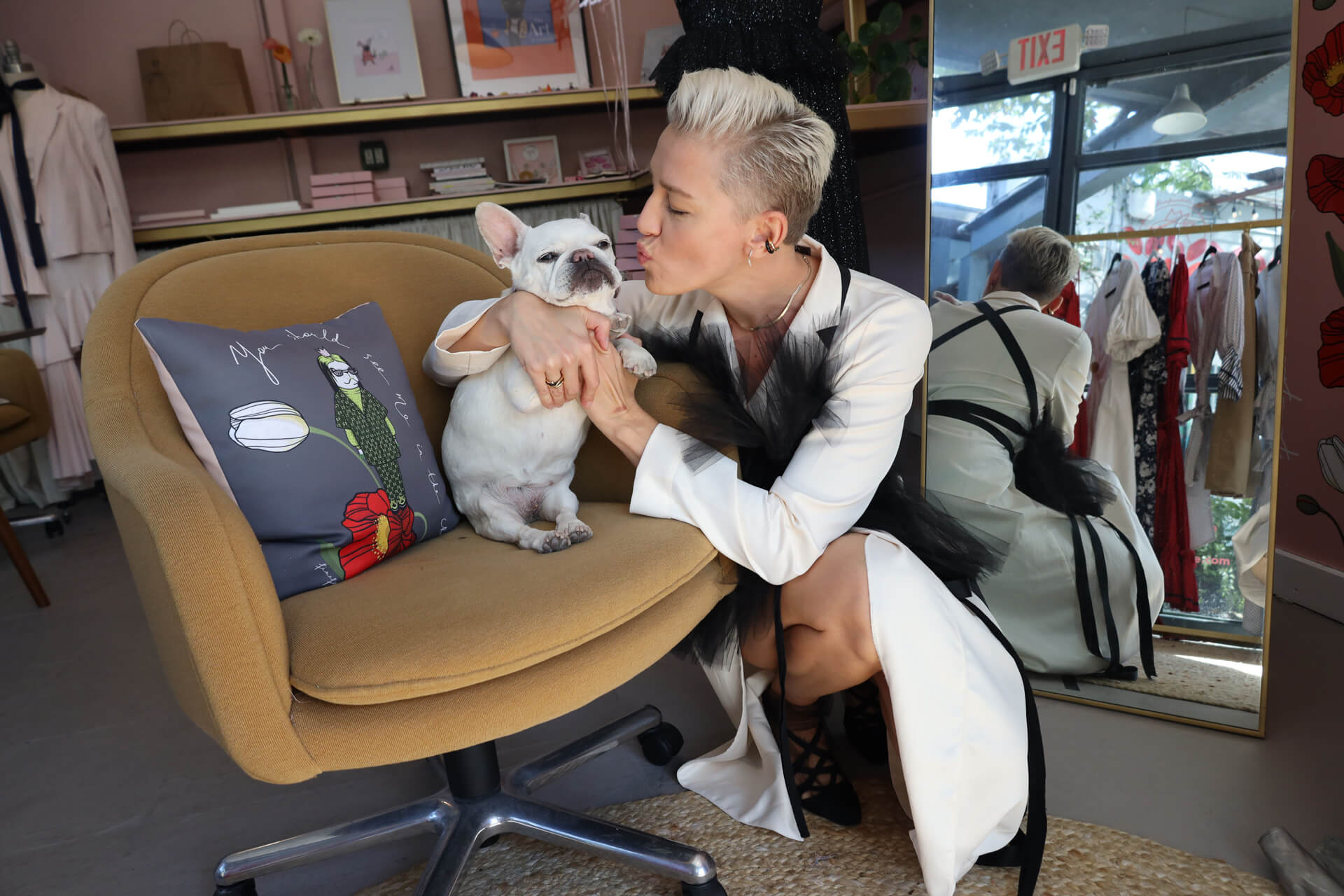 Valeria Krasavina with Frenchie Rabby
How did your career in fashion begin?
I was always in arts and started my education in fashion very young. I was 15 years old when I went to a fashion college in Moscow. At age 21, I moved to Miami, where I finished my degree and started working for different brands. Since 2016, I've been working for myself doing different projects, including fashion consulting, and designing one-of-a-kind pieces for myself.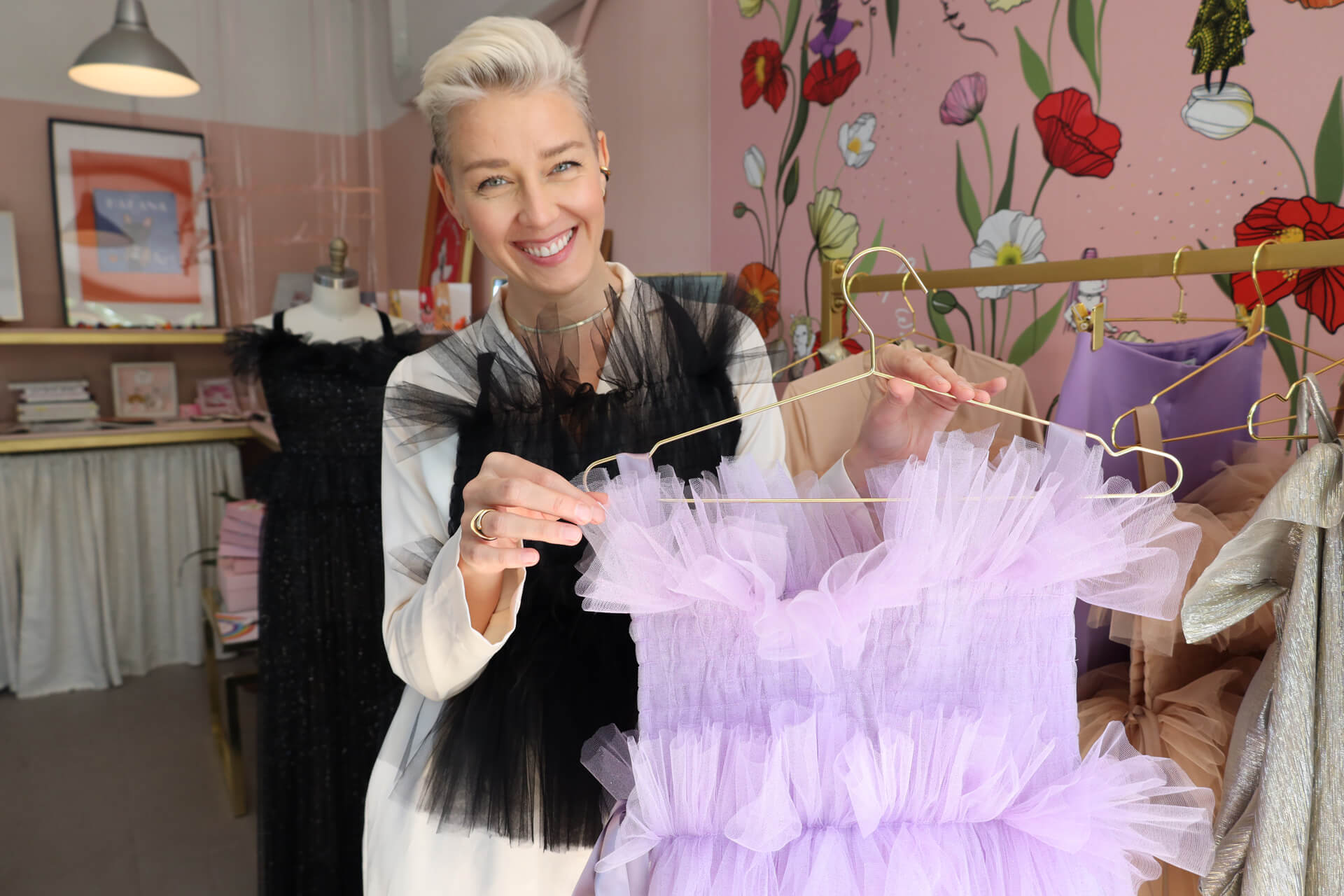 What are some challenges you faced establishing your business in Miami?
One of the challenges is finding the right production with low minimums and good prices, whether it's Fine Frenchie products or clothing. I'm all for the best quality… and sometimes, it's very hard to find. On the other hand, I've been very lucky and surrounded by amazing people who always support me. I'm very grateful for that.
What are some milestones you've recently reached?
My brands are very young, but one of the highlights for Fine Frenchie is that Lady Gaga really loves my art and has a few of my pieces. Recently, I did a big interview with Bloomberg TV where I discussed both of my brands, which was a bit surreal. I opened my first showroom at Miami Ironside where I created my own universe, and you all are welcome to come! It's all only the beginning and I'm looking forward to what's to come.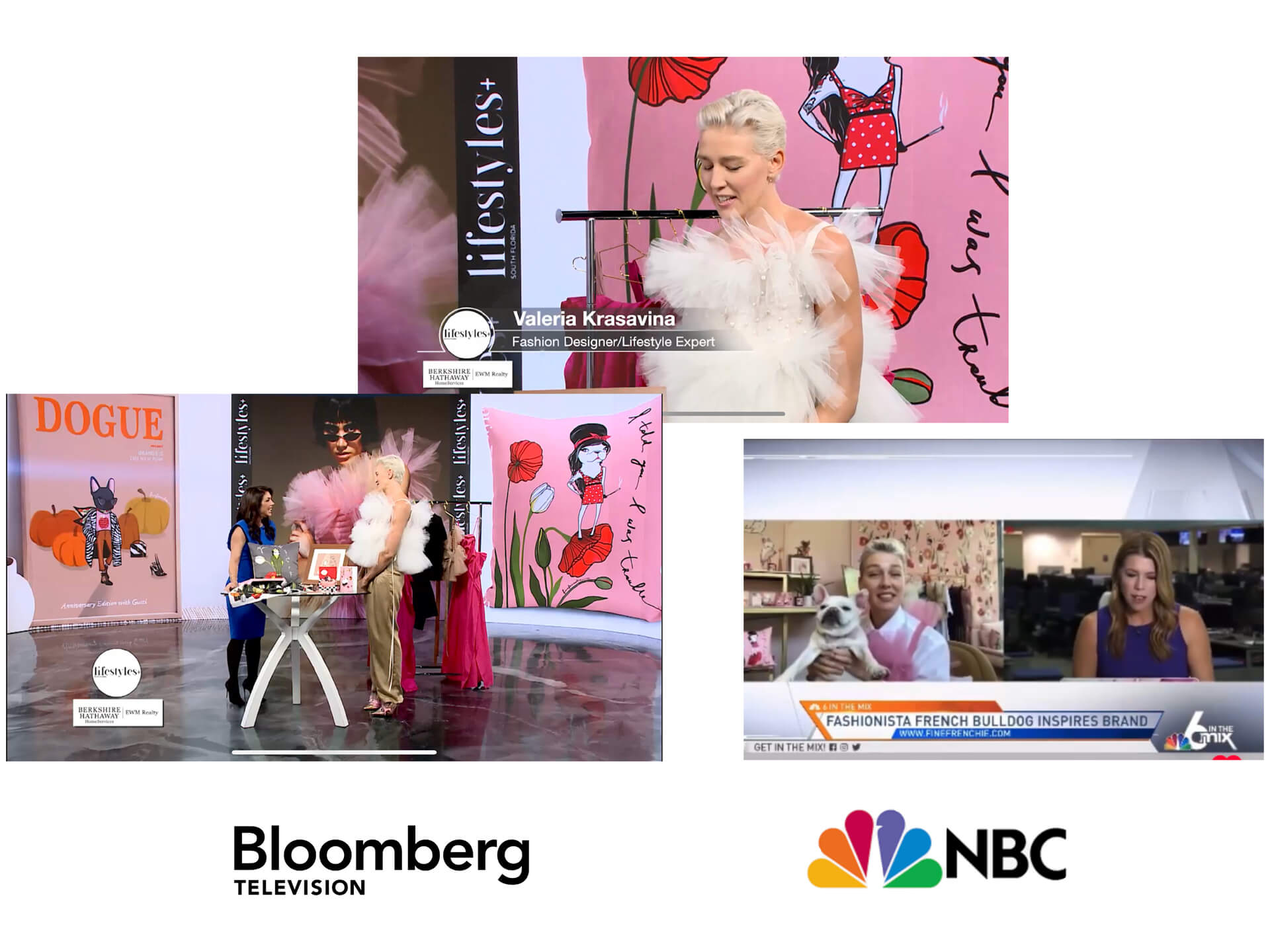 What are your goals for the next 5-10 years?
For Fine Frenchie, I want to grow the assortment of products and have more wholesale accounts, while reaching a wider audience. Also, I dream of publishing a book, which I'm hopeful will happen. For Valeria Krasavina, I'd like to expand the brand, work with stylists, have more editorials, place my pieces at the right stores, and do a fashion show.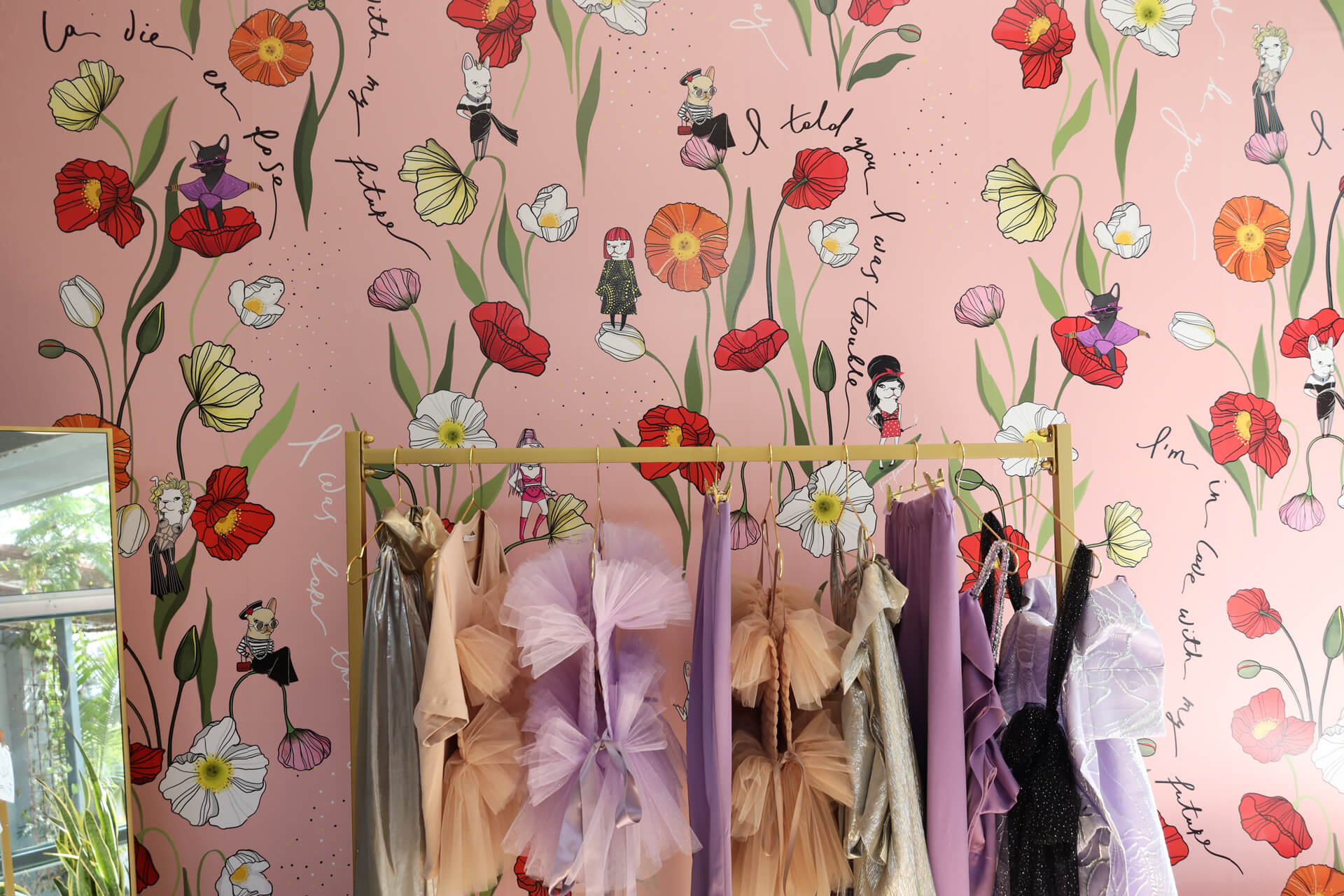 How can the Mana Fashion Services community help accomplish your goals?
I think the main aspect is to connect with other professionals, which your community is doing an amazing job at. It's all about connecting and building relationships with others. Perhaps, establishing a grant that you can donate to small brands to help with production would also help.
In your opinion, what's missing in the Miami fashion industry that is worth thinking about while creating a professional community?
Fabric resources are very limited in Miami. It's always a challenge to source something special at a good price. Finding the right products is a challenge, as well. I'd like to have more resources and options.
Are there any local talents that you would be interested in collaborating with?
I did a beautiful collaboration with ceramic artist Brigitte Bourgoignie. She created a collection of necklaces that complimented my linen pieces. I'd like to collaborate more, perhaps with an artist, to create a pattern or an experience for the fashion show.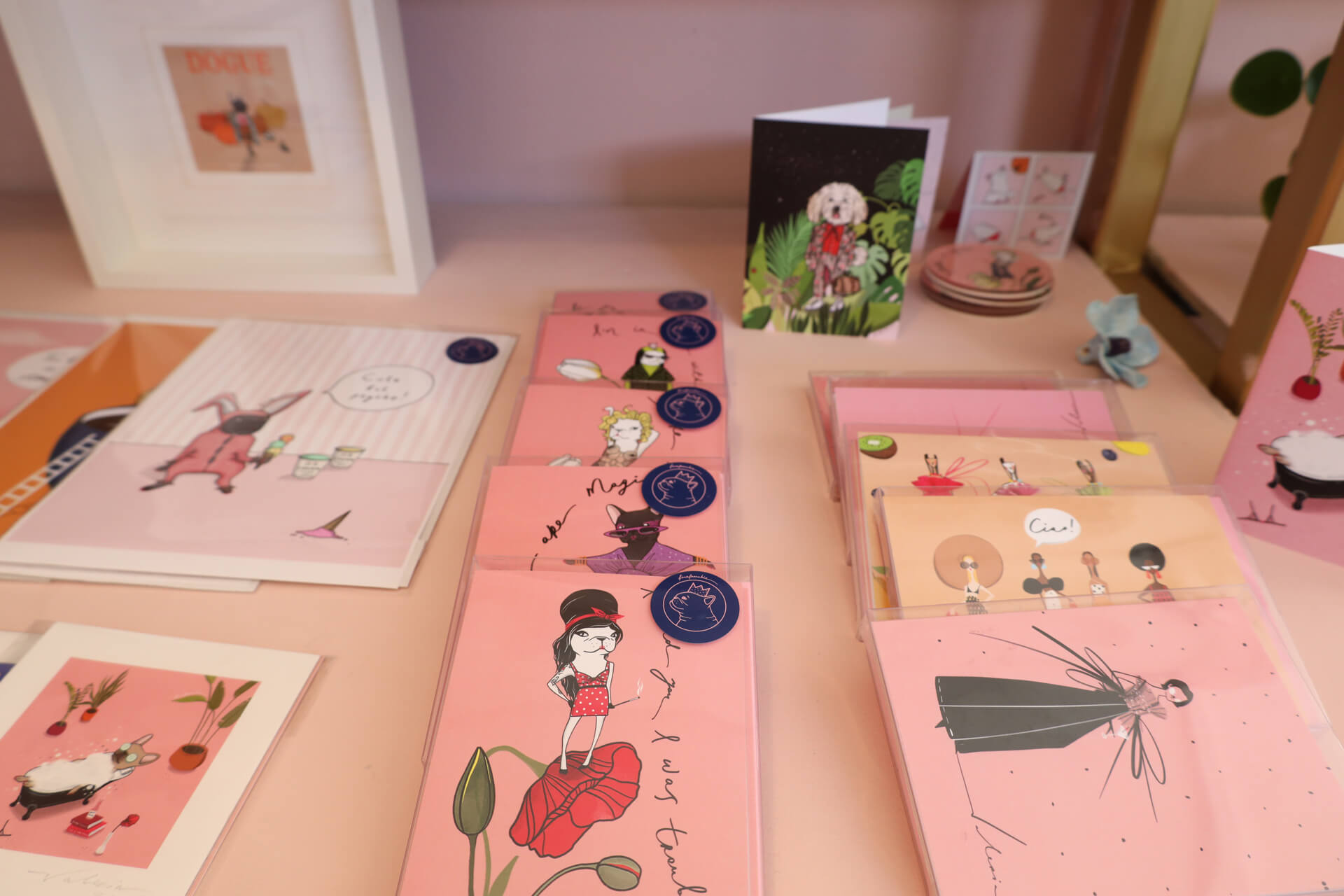 Are you inspired by anyone in particular [in Miami]?
I've been working with an amazingly talented photographer, Tato Gomez, who shot all my recent campaigns. Seeing how his vision inspires me and takes my work to the next level is amazing.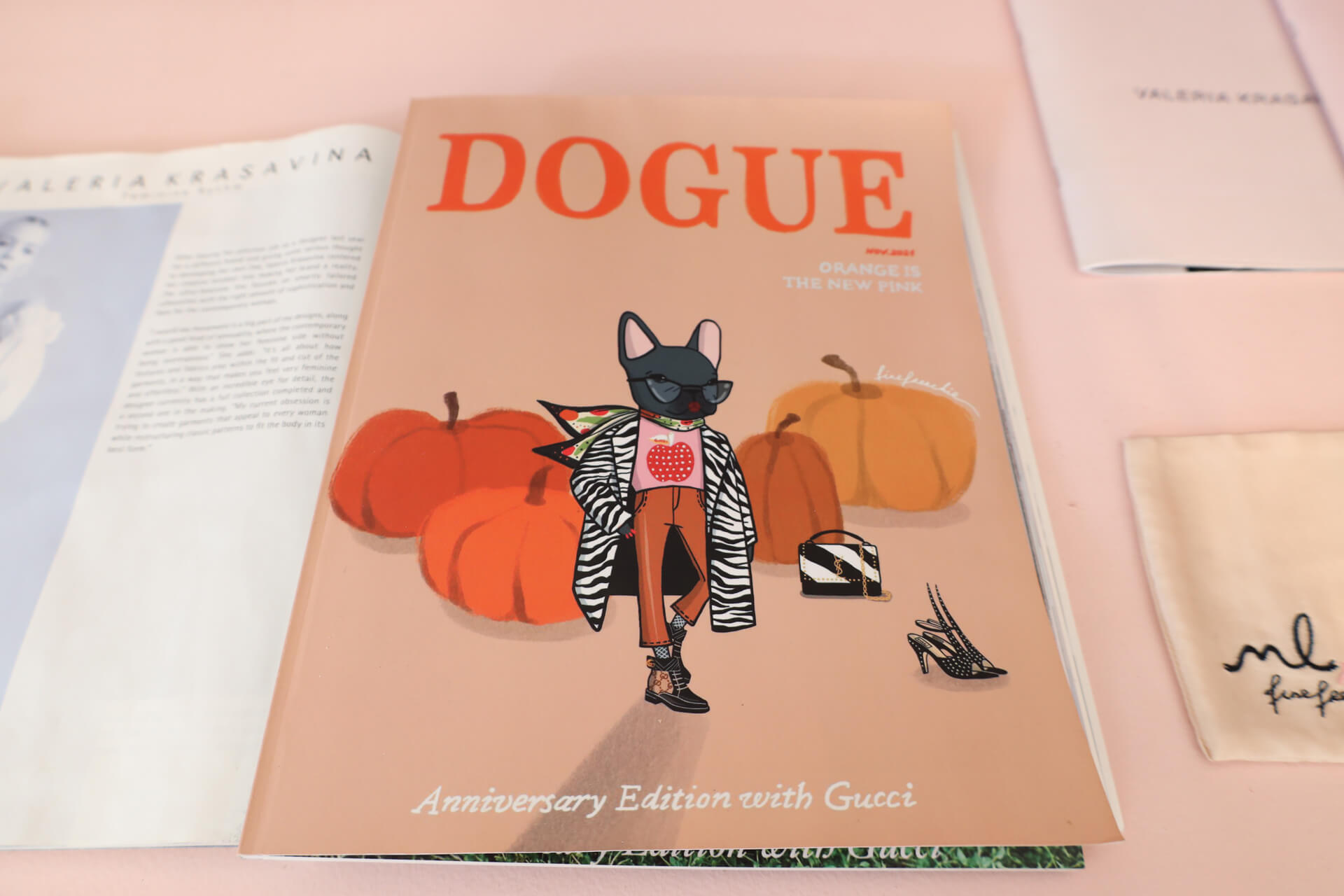 Please share with the audience your website, social handles, and any upcoming events you are working on.
I'll be hosting my first trunk show from February 17th through February 19th at Curio by Faena Bazaar. The venue is a very beautiful store, and everyone is invited to enjoy the unique experience.
Valeria Krasavina
Fine Frenchie
---