The Voices of our Community: The Fluffy Corner
We sit down with Founder Sara Bowles as she shares her story on the origin of her home décor and gift shop.
Aug 12, 2022 · 6 Minute Read
---
Hi everyone! We would like to share with you our recent conversation with Sara Bowles, mom of two little girls and founder of "The Fluffy Corner."
The Fluffy Corner is a home decor and gift shop full of unique and top quality conversation pieces that Sara curates herself. Most of the items available for sale she buys from other women-owned businesses.
Sara, what do you think differentiates you from your competitors?
I think anyone can sell flowers and home décor pieces, but to me, my goal has always been supporting small businesses. So in my shop, you can find products that you can buy from other small businesses here locally in Boca or Miami, as well as all over the world. For example, I have candles from the UK. Also, you can find jewelry from Poured Love which is from Boynton Beach. I love supporting other women-owned small businesses, too.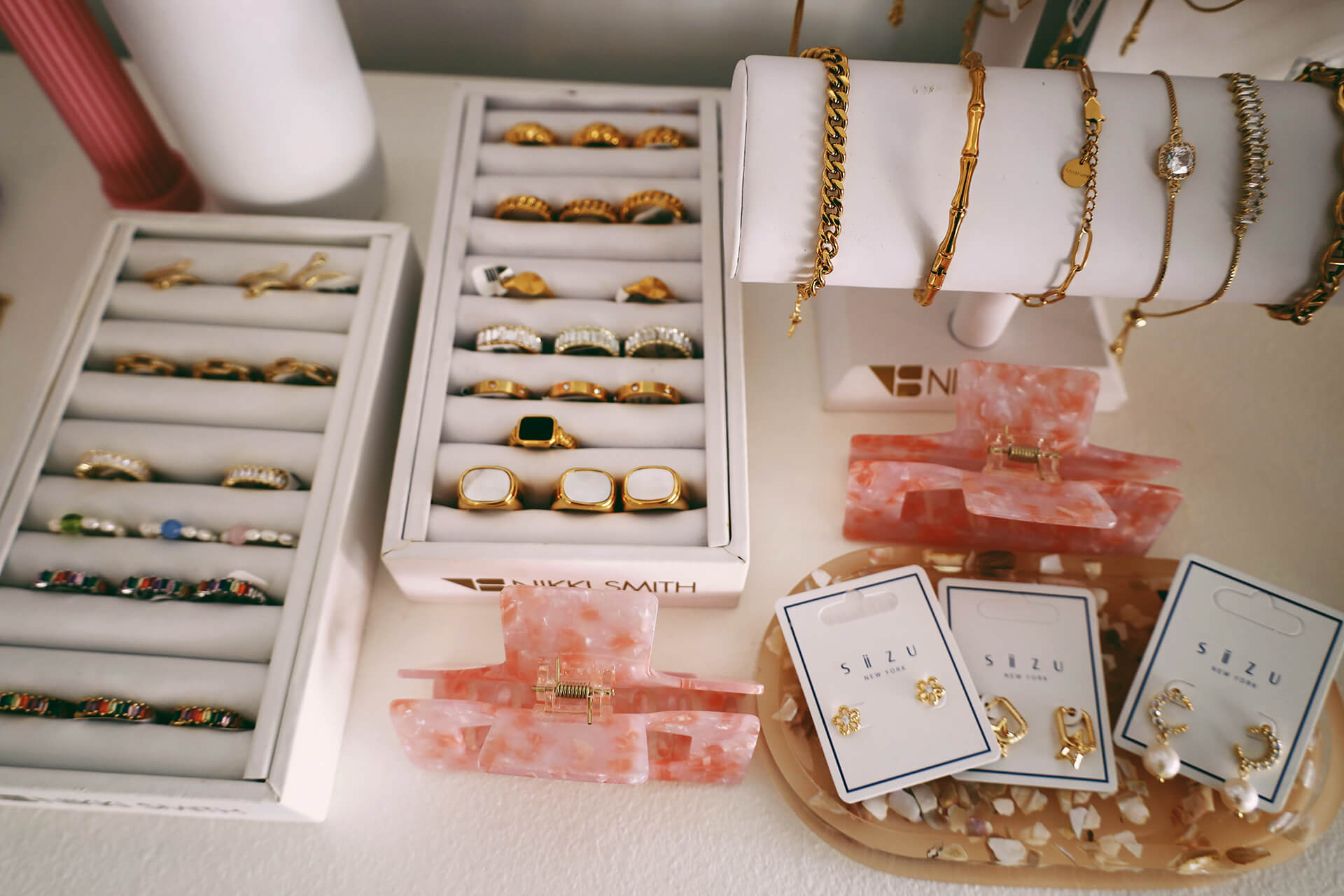 Jewelry from The Fluffy Corner
How did you start your business and why particularly home decor accents?
Funny story! I also own a UPS store here in Boca. It's a family business and I was super busy taking care of my kids and the store. One day, I wanted to buy succulents to make my house pretty, but they had died within a few weeks. So, Instagram heard me saying, "I can't keep my plants alive!" and started showing me pampas grass, dry flowers, and everlasting bouquets that last 'forever'. So, I thought it was a great alternative to live plants. I then started diving into all the information I could get on these everlasting plants. I found a supplier from Miami, who brings all the flowers from Argentina and Ecuador. So, all my plants are from those countries. My first market was the Aventura Mall, and that's how it all began.
What are some benefits of starting a business in the Miami area?
Well, ever since I was little, I knew Miami was a hub for fashion, and everybody, not only in the States, but across the world, knows Miami. So, to me, it's a dream to even be able to have a store and be able to expand all over South Florida. I think I can reach a wider target market. Not only people from the US come to visit, but from other countries as well. They can take a piece of The Fluffy Corner to their homes all over the world.
Tell us a bit about your business model.
Basically, it all started with the idea to be only online, but it quickly grew into brick and mortar because I wanted to be able to have that one-on-one with the customer. When I was doing the pop-up markets on the weekend, a lot of people wanted to find me during the week for custom arrangements or personalized gifts. So, that's when I decided to open a brick-and-mortar store. Now we are expanding into malls. We just recently expanded to the Boca Mall and we have plans to be in the Aventura Mall towards the Holidays!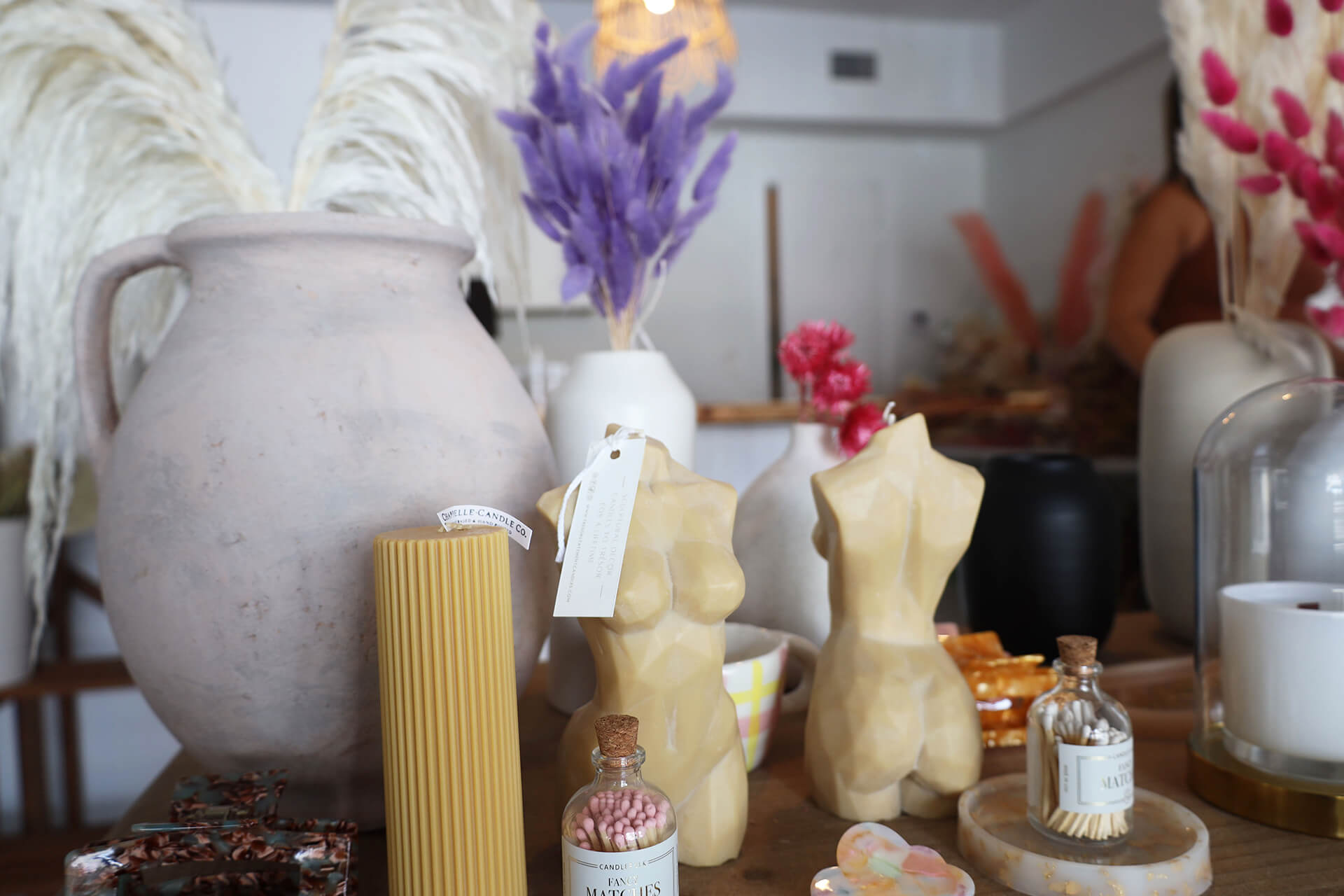 Decorative candles from The Fluffy Corner
Exciting! What are some challenges you have faced building a business? What advice can you give to someone who is just starting on their entrepreneurial journey?
As a business owner, you want to do everything yourself. You want to take the pictures or take care of the accounting, or you want to be the one selling the products yourself. Because who can sell your products better than yourself? But, you must learn how to delegate tasks and build a team. So right now, I have four girls that I trust to take over and sell as great as I can. But it is also challenging to find and hire people right now, as many businesses can relate. You must invest time to get to know that person, to train them, and hopefully, inspire them. And in terms of advice, I would just say if you had an idea, just do it. Don't wait for the perfect moment, don't wait to have that perfect logo, baby steps. If you want to sell jewelry, find out how to do it, and maybe start super small with your friends and family. You don't have to wait to make it perfect.
Great advice! Now, how do you see your business evolve in the next 5 years?
It's crazy because I just started last October, so I am not even a year old. I can't even believe I already have 2 locations! I am signing a lease today to be in the 3rd location in Delray Beach. I don't know what will happen, but I am full of dreams for the next 5 years. I could have multiple storefronts, here in Miami, Florida, and hopefully out of state. Franchising? I don't know, the possibilities are endless.
We are excited to see your dreams come true. On that note, how do you define success?
A lot of people relate success with money. To me, it's being able to help someone find a perfect home décor piece or find a perfect gift. I appreciate when someone takes the time out of their day to come to my store with a smile. To me, that defines a successful day. I also love to share my wins and tips with fellow small business owners. Anytime they have a question on how to open a store… I share my journey, my story, and my successes with them.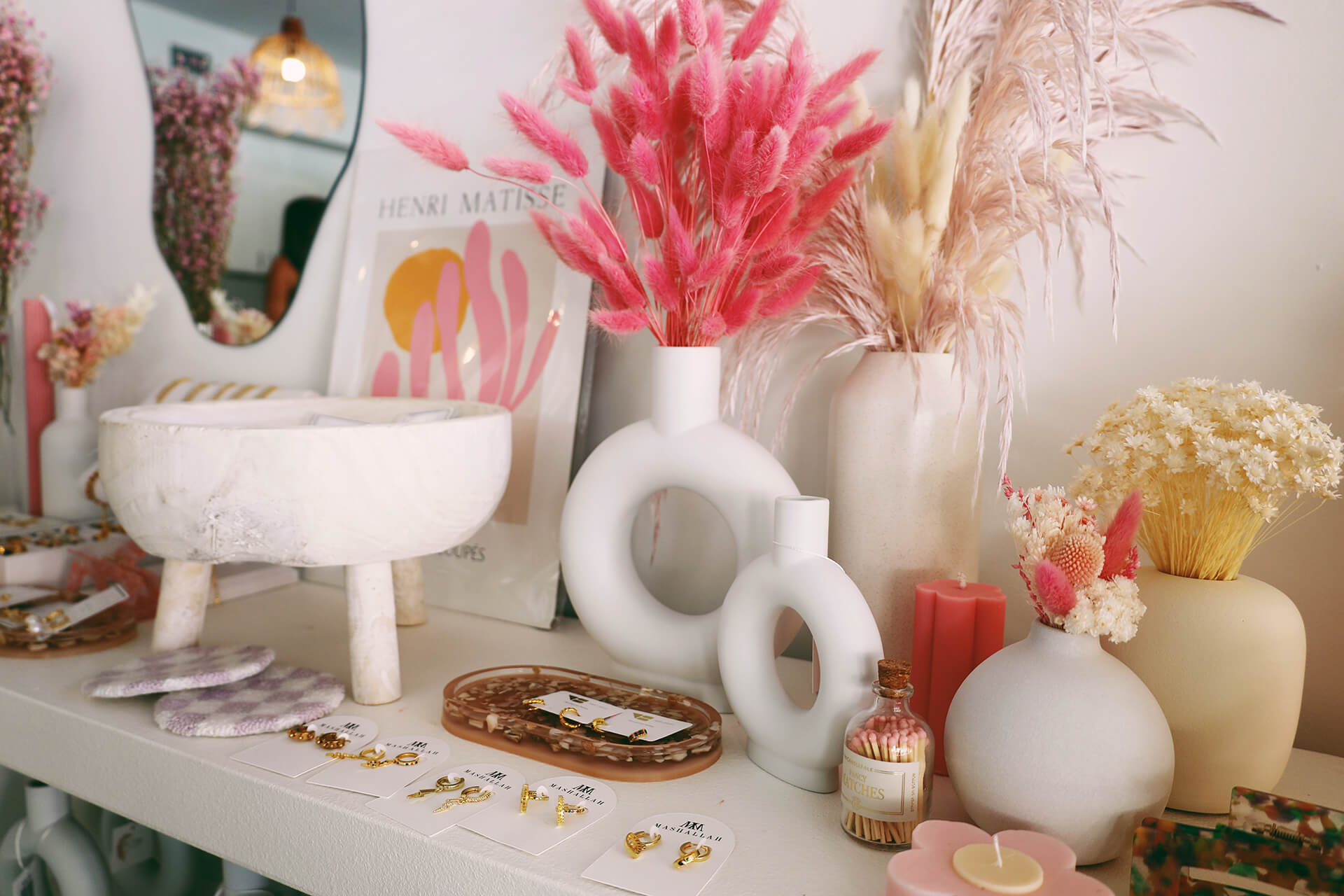 Home Décor Items from The Fluffy Corner
Sara, tell us where the audience can support your small business and shop your products.
We have our main store in Boca located at 364 E Palmetto Park Road. We are also at the Town Center Mall in Aventura. We also do pop-ups, so if you follow us on Instagram I usually post the event information on my stories or feed. Additionally, we have a website, where we can ship anywhere in the world.
Is there anything else you would like to share with the audience?
I would like to thank anyone who takes time out of their day to support small businesses. Not only me, but if you see someone at the farmers market, if you see someone starting their small business on Instagram- especially if it's a friend- make sure to support them! Not only by purchasing something, but by sharing their posts with your friends. It means a lot to us, especially when we are just starting.
---