The Voices of our Community: Pangea Kali Virga
This week we chatted with Pangea, a Miami-based fiber artist, and a sustainable fashion designer who shared her ambitions and values.
Sep 9, 2022 · 8 Minute Read
---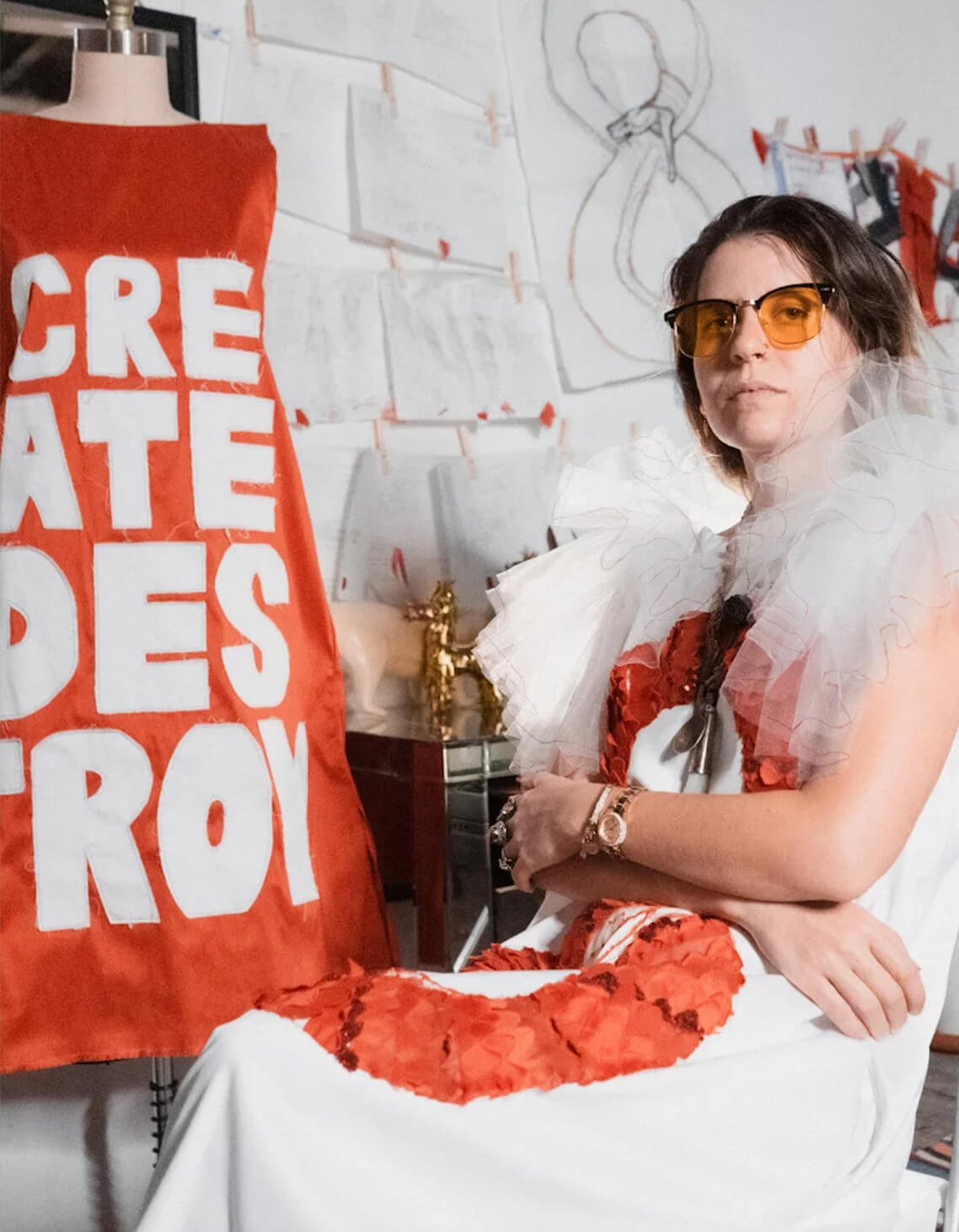 If you could only use 3 words to describe who you are and what you do, what would they be?
Adventurous, compassionate, and creative.
Tell the audience more about what you do.
I am a fashion designer, sustainability advocate, fiber artist, and arts educator with an aim to build collaborative networks and moving experiences through my work and projects. I aim to uplift the community and showcase sustainable practices, as well. Through my work as a designer, I create entirely one-off, season-free pieces and experimental conceptual designs using couture finishing under my eponymous label, Pangea Kali Virga. The collections are birthed from the musings of my soul, crafted from materials sourced from the community, and made to be worn by special people, for all occasions, to be passed down as heirlooms and to evolve with the wearer. My designs range from collaged lace dresses dripping with intricate hand beading to patchwork upcycled denim circle skirts paired with hand-woven chiffon blouses— texture and embellishment being my specialty. As a published stylist for many years, I incorporate those ways of thinking into many of my designs, which can be worn in a variety of ways, and can be effortlessly styled for maximum effect with minimal effort. Keeping a zero-waste studio aids in my creative practice, as many of the textiles I make are composed of scraps and are often used as the source materials for all of the public workshops I host. Excess materials are shared with the community, fashion students, and more through a "free store" in my studio for people to take from. Individuals who donate materials receive 10% off any order. I have recently started a mending drop-off service so I can help people hold on to precious items longer. My workshops take place about once a month at locations around Miami, as well as in-studio, and cover topics of mending, community material swaps, embellishment, dyeing, and more to encourage creative expression, longer wear for garments, and community bonding. They are all ages and open to the public. Most are free, and the rest are by suggested donation. The fiber work and events I produce take much inspiration from nature, collectivist attitudes, and are about having fun together!
Do you consider yourself an artist or a designer? For what reason?
I consider myself both. Before embarking on a more traditional fiber artist path, I firmly held the belief that clothing is the most accessible form of art and that fashion is a larger driver of aesthetics and culture than any other art form or industry. Are not all designers also artists of some kind? It seemed like a natural evolution for me to transition from being squarely in the fashion industry to create a balance and symbiotic relationship between being an artist, designer, advocate, and educator. I feel like all of these elements of my current career path really feed off of each other in a way that inspires, enlivens, and benefits the other elements. My eponymous label, Pangea Kali Virga, only consists of one-of-a-kind garments, treated like collages and sculptures with textiles that speak for themselves, and are rich in texture and detail, narrative, ornate, and painterly. I see each work as a composition with a story of its own for people to wear and tell, so I tackle the design process as if it were an art piece. My art, like the fiber wall hangings, sculptures, and performance work, is also based on the same principles. It is not all too uncommon for fashion designers to traverse the fine art industry and I am delighted to be on that same path.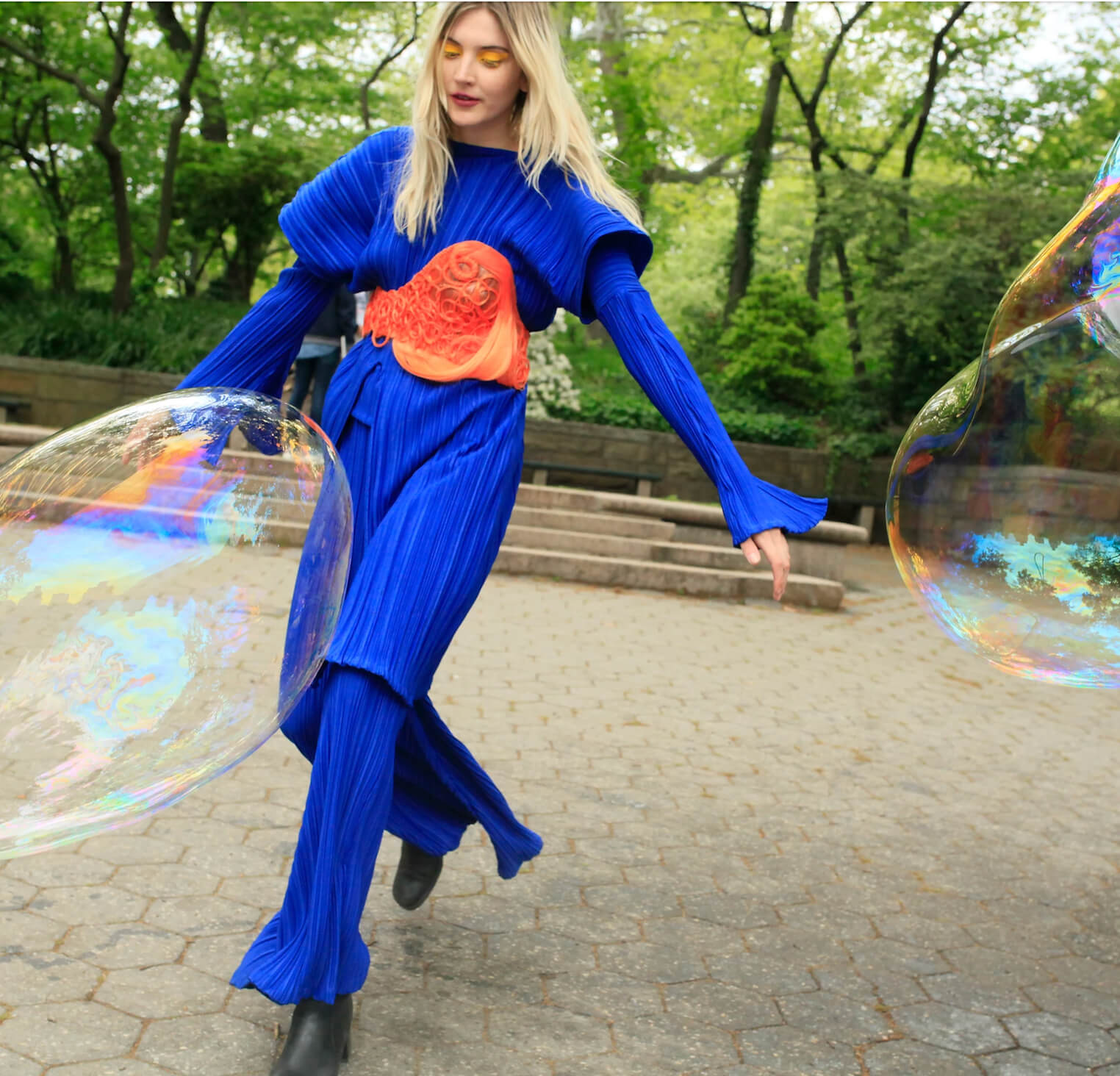 Why are sustainable practices important to you and when did you start implementing them?
I started exploring sustainable practices and theories when I moved to Miami almost four years ago. After seeing firsthand the harm created through the industry through production, marketing, and retail, I wanted to be part of the solution. It is important to me to create, practice, and share a counter-narrative to the exploitation and wastefulness that fuels the fashion industry in its current state. Practicing zero waste, making sure to use every scrap by integrating it into other works, collecting a supply of community-sourced upcycled materials to include in all of my art and designs and as materials for my public workshops (like scraps from designers, items from closet clean outs, etc.), and offering public workshops on the topics of sustainability, are all ways I try to bend the curve away from disaster while uplifting community efforts. As noted prior, I now offer a mending drop-off service for the community, which assists in my mission for less fiber waste in Miami. The end result leads to extremely original wearable art never to be reproduced, an ever-expanding community of Miami-ans interested in sustainable practices and sewing skills, and collaborative artworks that continue to grow.
What challenges have you faced doing what you do in the fashion industry in Miami?
Sustainability in design poses many constraints, but I have found this leads to even more expansive creative expression through original design solutions. My textile work would not be what it is today if it wasn't for needing to find ways to use up the tiniest of thread scraps and the most unlikely of fibers. My largest challenge was my finding of 'Miami On Sight', a fashion show project creating a collaborative network of segmented creatives to foster more lasting change and heartier support for the sustainable initiatives in the fashion industry here. We had two successful shows before taking a break due to the pandemic. It can be exhausting work, but the rewards are great and I look forward to expanding this fashion show series in 2023. I am excited to see more resources for the industry from the city for sustainable fashion in particular and hope that this institutional support helps this flourish.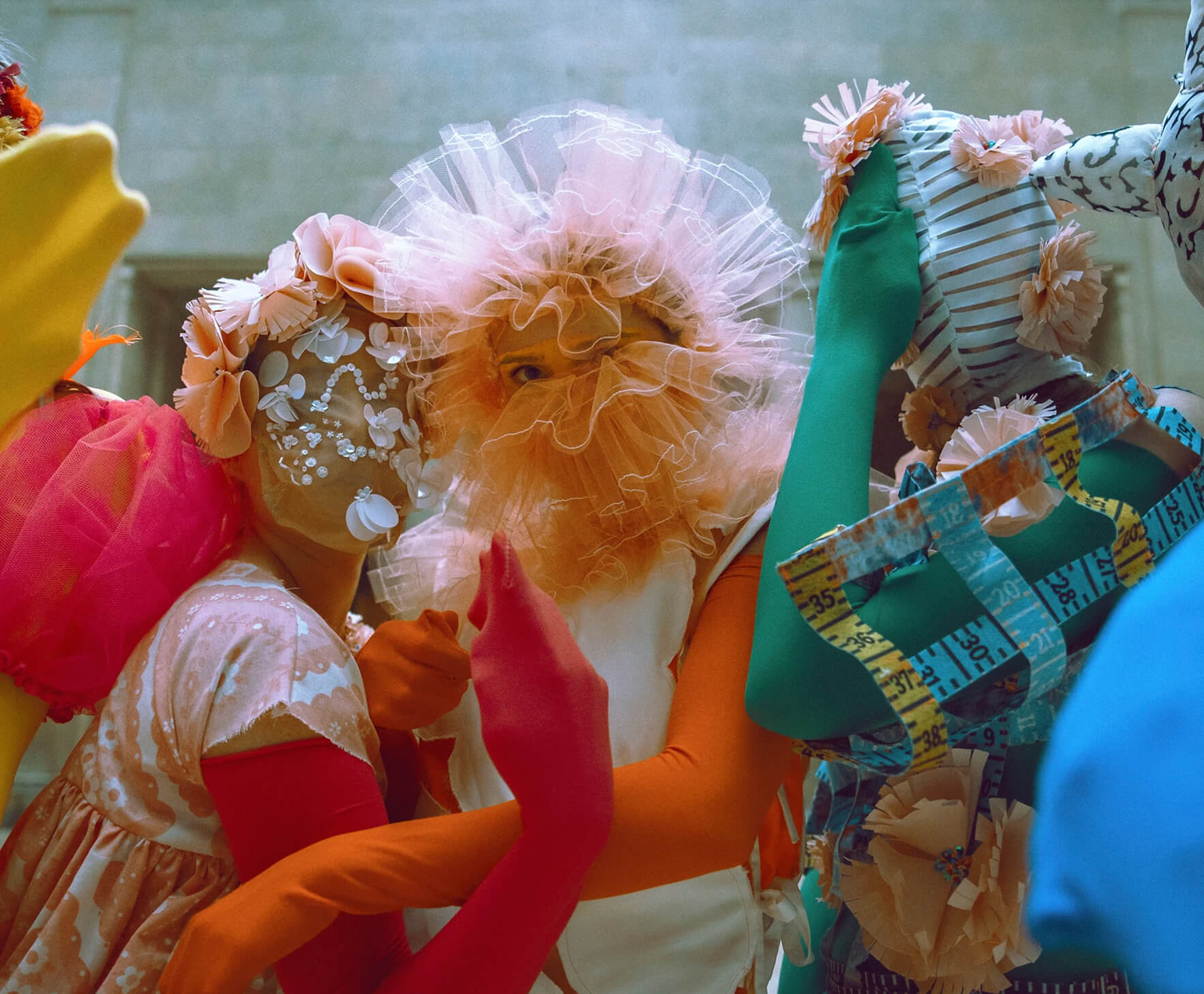 How can our fashion community help overcome these challenges?
Miami needs to come together, designer round table discussions should be held regularly, events should be planned in coordinated efforts for maximum effect and reach, we should have a directory of fashion insiders, and we should create a set of sustainability standards that we all adhere to.
What message would you share with the audience in relation to sustainability?
The efforts need to be multifaceted and include everyone. Designers should produce less, design with the entire life cycle of the garments in mind, as well as offer opportunities for customers to mend and recycle products. Things like upcycled materials, biodegradable/recyclable packaging, community support through resource sharing, etc., should also be practiced. For fashion-lovers outside of the industry, buying fewer items, learning to mend, and sharing what you already own with friends and family through swaps or borrowing, should be regular practice. Beyond our individual actions, we can also prompt change by demanding transparency in labor and production from larger brands and businesses through boycott/email campaigns, etc., and by rallying for legislation that protects garment workers and advocates responsible land-use so brands have to maintain certain standards.
We have partnered with you to create an "upcycling workshop" at the end of September. Tell the audience what to expect during this class?
The workshop is open to all and participants are invited to bring their clothing in need of mending and embellishment to work on and repurpose. The final 30 minutes of the workshop will serve as a clothing swap, where participants bring extra items to pass on and share with one another. The workshop will cover skills for decorative mending of holes and stains, creative reuses for textile waste, painting fabric, sewing buttons, and more to create community and empower individuals inside and outside the industry to practice more sustainable methods in their personal lives, as well as within their brands. Have something with a hole in it? Come learn how to patch it! Have an item with an awkward stain? Learn how to turn that blemish into a unique work of fashion art! Got tired of a garment you used to love? Find ways to update it and make it your new favorite item!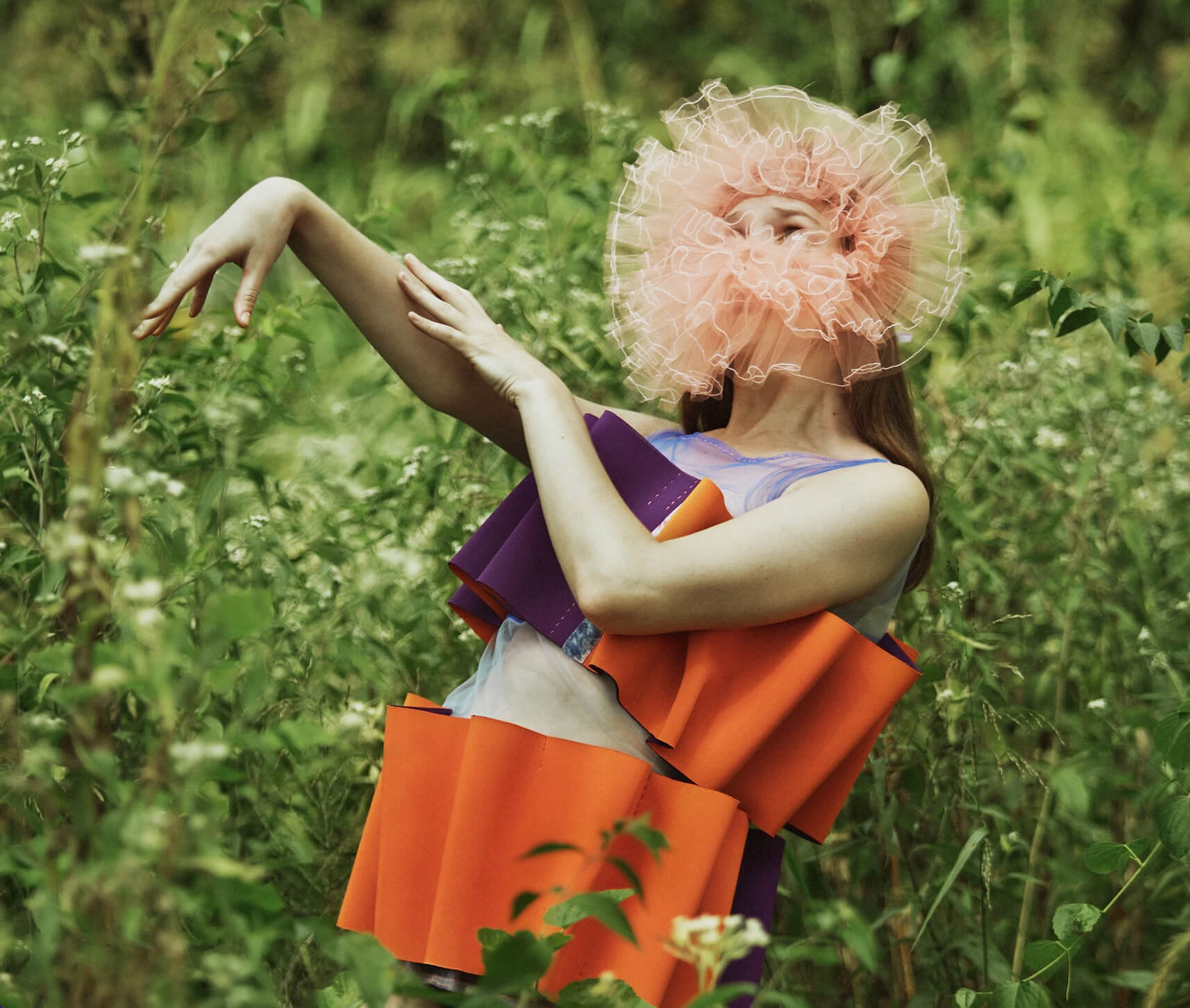 How would you like to see the Miami fashion industry change?
I think it is important for the exchange of ideas and materials to be free flowing and easy between local members of the fashion industry. Sustainability is such an expansive topic and the more we share our experiences with each other the more broad our impact and efforts can be. I would love to see a quarterly round table discussion amongst industry insiders, a space for exchange of waste (my trash might be your treasure and vice versa), as well as collective initiatives that we can all try to achieve. Fast trend cycles also serve as a guiding cultural force in this city. It would be great to see brands partnering more with their clients to foster dialogue around styling old pieces to fit these new trends, closed loop recycling programs, and mending services.
Please share how you can be discovered via website and social media handles, and any upcoming events.
I can be found online at pangeakalivirga.com and on social media at @pangeakalivirga, which showcases my life as an artist, as well as @_pangeakalivirga, which is solely focused on the brand. Sign up for my newsletter and follow me on social media to learn about workshops, events, and actionable tips for more sustainable living.
---