The Voices of our Community: Kimaya McPherson
In this week's edit, we discover a talented Miami-based couture bridal designer who talks about her journey and the challenges associated with building a business with the made-to-order model.
Oct 7, 2022 · 8 Minute Read
---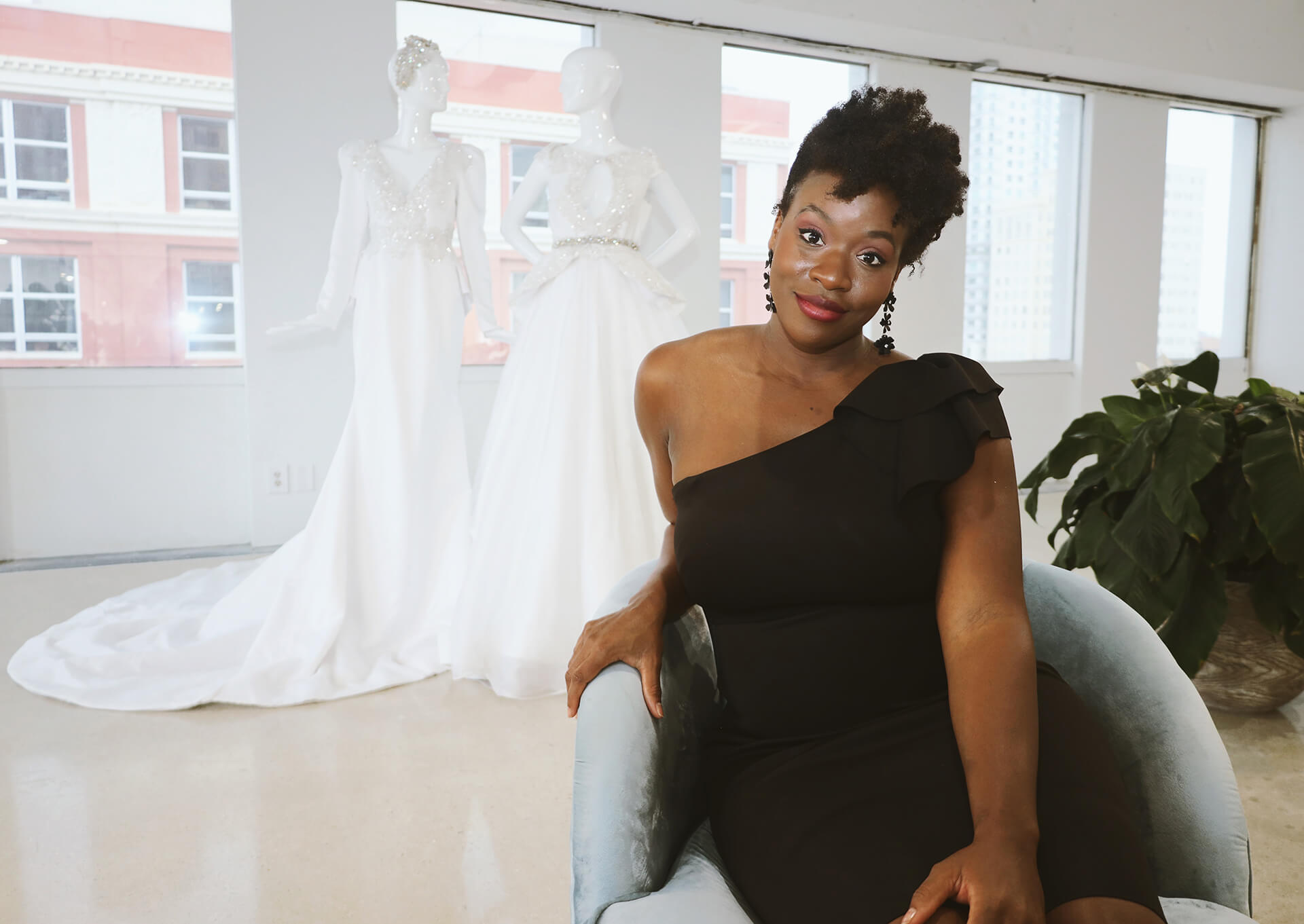 When did you discover you wanted to be a designer? What steps did you take to achieve this dream?
Growing up, I have always had an interest in creating gowns. As a child, I would often cut up drapes from my living room to practice working with fabrics. My grandmother was definitely not pleased about that! It wasn't until college that I truly discovered I wanted to be a fashion designer. It was at that moment, having to choose a direction for my life, that I chose the path that freed me. It was a natural choice to study fashion design. This was the most transformative decision I had ever made. Having a formal education in fashion gave me the foundational knowledge and tools I needed to truly set me on my path and go after my dreams. I have achieved some amazing things thus far; however, I'm still on a journey towards getting closer to my goals.
Tell us about your business model and process.
Kimaya McPherson is a designer who specializes in bridal and eveningwear. Our brand believes in customizing your dress, just for you! Allowing our clients to feel fiercely feminine and confident celebrates them in a bold new light.
Creating a couture dress requires a few fun steps…
Our top priority is understanding our clients. In the first consultation, we get to know you! We also go over gown inspirations and expectations in the process of creating your couture dress.
Once you have decided to take the next step with us, we get into more detail with the design of the gown. In this part of the process, we take your inspiration and come up with an original design, fitting to your special dress desires and personality. We source fabrications and materials that work best to create your couture dress and go over all detailed specifications and placements for your design.
Measurements are also taken with your designer; this can be done both in-person or virtually (you will need someone present with you). When your measurements are completed, we create a dress pattern in your size, based on your body measurements. A sample dress is then made from your size pattern to ensure that the fit, length, and silhouette are right for you. This will require a fitting, which can also be done in-person or virtually for out-of-town clients.
Once the fit is correct, we finally get to create your dream dress in the fabrics that were selected for the design, placing all the details on your gown, and bringing your dress to reality.
You will have a second fitting, which must be done in-person. Once the details are placed and the gown is completed, it's all yours.
We also have dress-day options to make sure you look your best on your special day.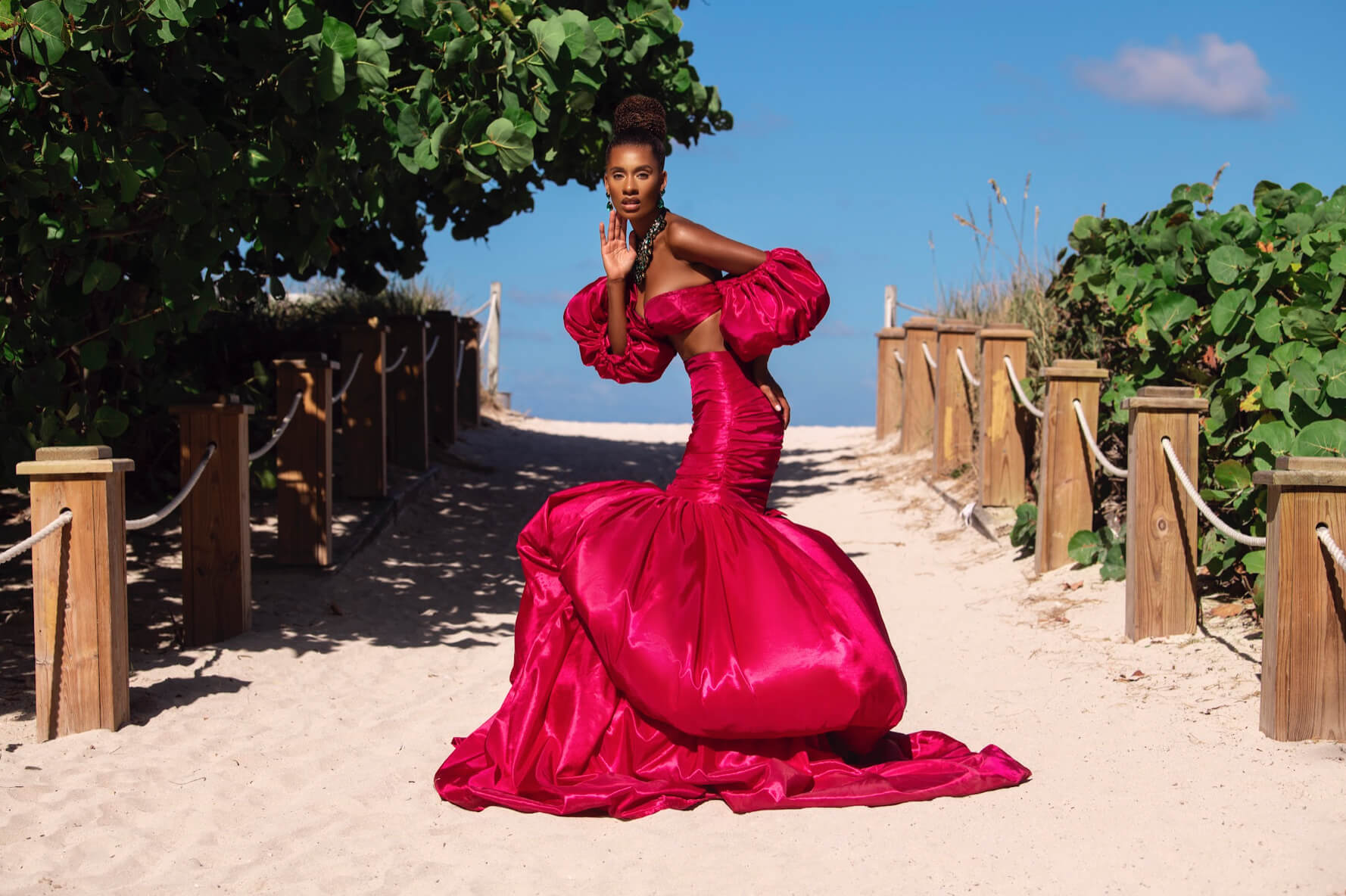 Who are your ideal clients and how can they discover you?
The Kimaya McPherson woman is dynamic, bold, sophisticated, has a zeal for life, and loves and appreciates fashion! She knows who she is and what she wants out of life. She enjoys our design aesthetics, which can be dramatic and/or untraditional, and trusts us with the artistic process and quality of creating her gown.
Today, what is the biggest challenge you face in building your business? How can the Mana Fashion community help?
I'm often appalled by the tremendous cost to build a brand, especially with the price of everything constantly increasing. Many people don't realize that as a fashion designer, especially one in bridal couture, there is a cost for not only what I produce, but everything else that comes with it. I don't just make the dress and pocket the profits; I take the capital I make and re-invest into growing my business. It gets expensive and ranges from the cost of materials and production, to the cost of marketing, packaging, website, location, furniture, insurance, etc. The list goes on and on, and the numbers add up quickly. Being said, having the financial capital I need to grow and scale my business, alongside business mentorship would be so ideal.
It also gets challenging operating from my personal studio. Having a select atelier and finding the right space to work would help make my dreams more of a reality. My ultimate goal is to be able to serve my community by creating more local employment opportunities for designers and creatives like me. I also hope to scale my brand and take on more clients.
My community could help me accomplish these goals by sharing the right guidance in business and resources to mentors, investors, and space opportunities to showcase my work.
In your opinion, what is the ideal scenario for the fashion industry in Miami?
Miami's fashion industry has grown and is still growing. I strongly believe that this city has the power to transform into the fashion capital it should be. I would love to see different avenues in fashion become more popular in Miami, beyond resort wear and swimwear. I know there is potential for the industry here, and I would love to see the fashion industry unify and rise. With the right shift and people in place, bringing their resources, knowledge, and expertise, I think it could provide thriving and blossoming opportunities for many fashion professionals.
Companies like Mana Fashion are refining and redefining our industry; bringing unity, resources, and opportunity. I think we are in the right direction, and I'm excited to be a part of this new movement and to witness where it takes us here in South Florida.
Having a high-end luxury atelier, do you find it challenging to source quality materials to realize your creations? How can the fashion industry pivot to help designers like you?
I source our fabrics and materials locally, as well as internationally. So, I find what I need to bring my creations to realization most of the time. I may have a challenge doing so, but there are always alternatives and creative ways to make it work.
I've found that locally most of the fabric stores here carry the same fabrics and materials, which is good if we need something quickly because I know where to find it. It's always a delight to find unique fabrics that are of good quality, also.
As far as a positive pivot; the fashion industry (and the world) is continuously advancing in new and innovative ways through technology, sustainability, and traditional methods. I think it would be revolutionary if materials were in alignment with the new age of fashion, alongside the information on how to use these new materials. This way, designers like me could access and incorporate them into our creations.
Do you make everything yourself, or do you have a team?
As of now, I currently make all my designs. From sketches to sourcing materials, drafting patterns, and sewing, I do it all. Our team is growing in other areas; however, as far as production goes, I currently wear all the hats in this department. My ultimate goal is to build this department by hiring the right team to be able to bring the brand's vision to life. Doing so will contribute to the building of Miami's working force in the fashion production market.
What's next for you? What is your biggest dream to date?
My next major goal is to be in NYC Bridal Fashion Week 2023. It would be such a big win to see my dresses on the runway there. We have already started implementing a strategy to make this possible, and I'm excited to see this unfold!
My biggest dream to date is to touch the hearts of women all over the globe. By sharing my passion through the art of fashion, I can bring out their new light, joy, and a little bit of luxury.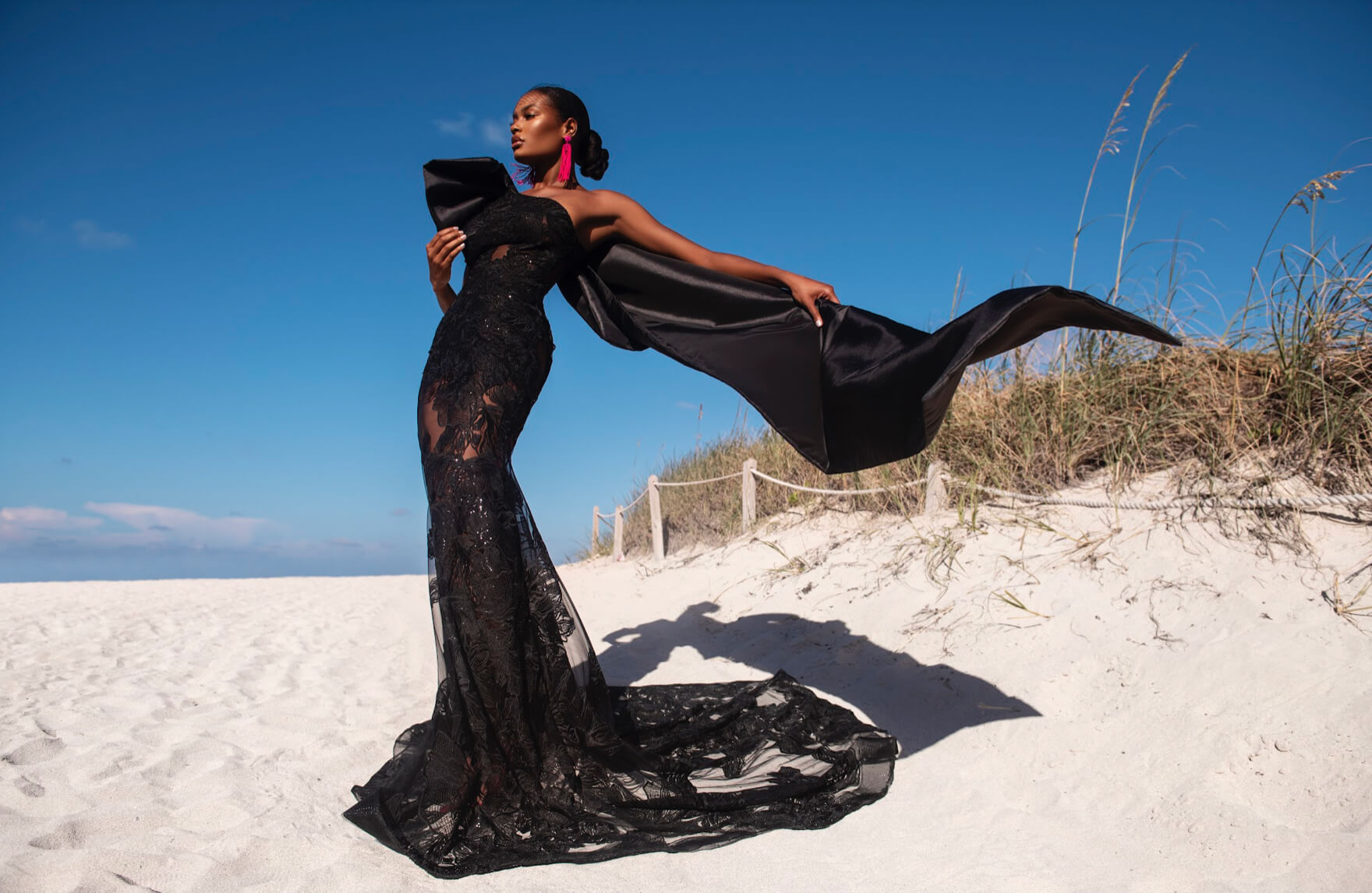 What practices do you implement to be more sustainable?
When it comes to the bridal and special occasion industry, sustainability can be a challenge altogether. With this being priority, we take into consideration the waste of our materials and utilize most fabrics that we purchase. Creating dresses can utilize a lot of fabrics, so we only order what we need. We also use the excess fabrics to create other products and accessories, and to compliment the design, generating a no-waste system to expand our product line.
With sustainability at our forefront, we have partnered with an amazing local artist, Roxana Frontini, who uses fabrics to bring her portraits to life. This sustainability project allows for the use of fabrics from our collections to be used in collaboration with her artwork as a purpose-driven project; to inspire, uplift, and give back!
What does success mean to you?
Success means different things to me at different times. At this moment, my definition of success is building a business and brand that works in harmony with my family. I am a wife, mother of two small boys, and a businesswoman. I have many roles outside of building my brand. Overall, the biggest success for me would mean having it "all" and thriving in every aspect of my life; both professionally and personally.
You can discover more about Kimaya McPherson here.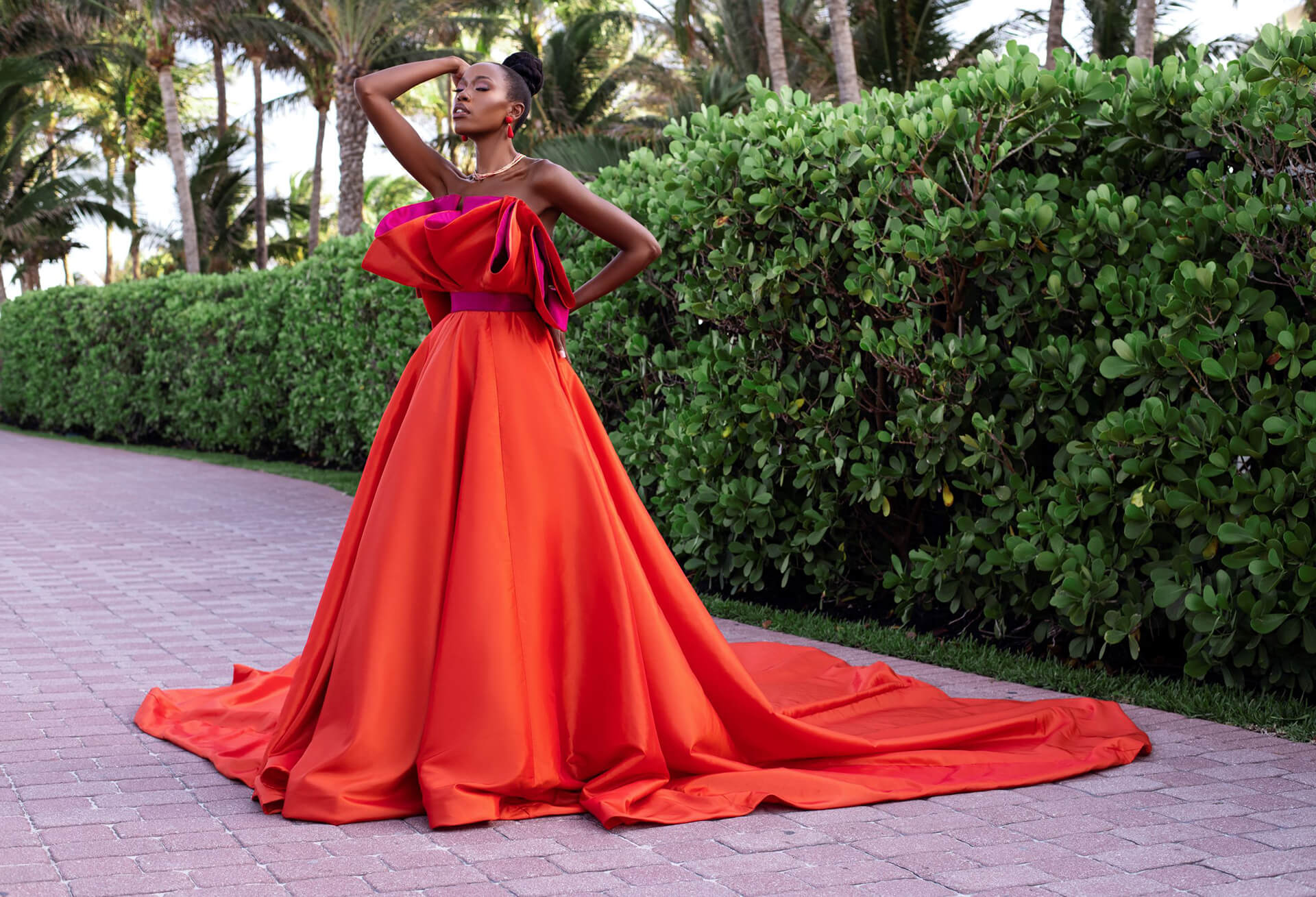 ---